Recent developments
Let's just get this out of the way. Recently, Ripple (XRP-USD) passed Ethereum (ETH-USD) in market cap (although this may be short-lived). My spidey senses are telling me we're about to get bombarded with XRP to the moon articles, so I wanted to provide some more in-depth information for the rest of you who I hope can and will appreciate a different approach.
Before we get into Ripple's history, the reason why Ripple might be worth investing in, and the concerns that I have, I want to talk about market cap for a minute.
Market cap is deceptive
One of the most popular sites in the crypto universe is Coinmarketcap.com. This site lists the largest number of cryptocurrencies and is probably the most referenced source of crypto data. However, there are some things you should understand about what "market cap" means in relation to cryptocurrencies, and about CMC (coin market cap) itself.
The textbook definition of market cap is simply the number of shares of a company multiplied by the share price. With cryptocurrencies, there are no "shares" per se (since there may not be a company at all) so we use the number of coins "circulating" times the share price of a single coin.
What does "circulating" mean?
Now, this is where it gets tricky because it turns out this means something slightly different for each cryptocurrency. As a result, this type of comparison is fraught with peril.
Let's talk about just three different cryptocurrencies: Bitcoin (BTC-USD), Ripple and Tether (USDT-USD).
For Bitcoin, it means the number of bitcoin that have been mined to date. This number changes every ten minutes (on average) as more Bitcoin are mined. There is a hard cap of 21 Million in the year 2140.
For Ripple, it means the total supply of XRP that is not "locked up." 100 billion XRP were created at launch, of which 80 billion were given to the company and 20 billion were given to the founders. As XRP are released from the founders or the company, they enter the circulating amount.
For Tether, this means (if you believe them) the amount of US Dollars they have in the bank, to cover the value of each USDT. As the amount in their bank account goes up, more Tether are issued.
Already, after examining only three of the top ten cryptocurrencies, you can see that the definition of "circulating" can vary greatly.
Now, let's talk about the price. After all, the market cap is the price times the circulating supply.
Where does the price come from?
The price is determined by taking the value across exchanges and essentially creating a weighted average. However, this is also a challenge because not all exchanges are created equal.
Some exchanges operate under regulation, and others do not. Some exchanges follow KYC/AML, and others do not. Some allow margin trading (even without any formal documentation) and others do not. Some allow free trading, which means you can trade with yourself even if you hold a single Bitcoin and "conduct" a billion dollars in volume if you want to, why not?
The price you pay for a cryptocurrency is determined by the price on the exchange you use, in the currency that the transaction took place. So this means that if you bought XRP with ETH and you want the price in USD, there's a lot going on under the hood (and recall that not all sources of data are reliable or regulated). If this transaction took place on an exchange that doesn't differentiate between USD and USDT, don't get me started… it's a mess.
CMC does attempt to identify and remove some of this shady activity from their aggregation. You may notice little ** symbols by the names of certain exchanges, meaning that shady activity has caused them to be excluded from the weighted price. But, I seriously doubt they are 100% effective in this undertaking.
Long story short
Be careful about the market cap figure in cryptocurrencies. It may be of interest for one particular coin, but it's very hard to compare coins using this method because of the huge operational differences, the definition of "circulating," and price discovery issues I described.
A brief history of Ripple
In conversation, you'll hear people talking about Ripple and XRP as if they were the same thing. However, Ripple is actually a company, and the XRP token is just one of their products.
Ripple actually got its start in 2004, under the name RipplePay.
Image Source: Ripple Pay (legacy site)
By 2011, they had changed their original peer to peer lending model and released this early promotional video.
Source: YouTube
Then, there was a period of time called the OpenCoin era, in which Ripple was renamed Ripple Labs. The underlying Ripple protocol was developed by the OpenCoin team.
The XRP token launched in 2013, and some was given away to members of the Bitcoin talk forum. In 2015, Ripple Labs became just plain old Ripple.
Controversy
Ripple's massive growth has not been without controversy. There have been a slew of lawsuits, criticism from the community, and competition from other coins, one of which was created by a founder, Jed McCaleb.
Legal issues
You may have heard of the many lawsuits involving Ripple, including one from R3, the original founders, and beefs between Ripple and Stellar (XLM-USD). From what I can tell, these seem to be resolved. But please do your own research if you're considering investing in XRP as this kind of legal action could materially impact the price of the XRP token.
Regulatory concerns
In 2015, Ripple Labs was fined $700k for violating the Bank Secrecy Act. Ripple Labs were then required to register with FinCEN, identify people who were given XRP, comply with AML, have an external audit and provide authorities with the necessary tools to track and analyze the flow of funds
Technical concerns
Ripple has a feature called "balance freeze," which is built into its gateways and was originally intended to help comply with law enforcement. However, as you might expect, it was used for another purpose when an argument broke out between the company and a founder who had since left.
The dispute resulted in a new agreement between itself and founder Jed McCaleb.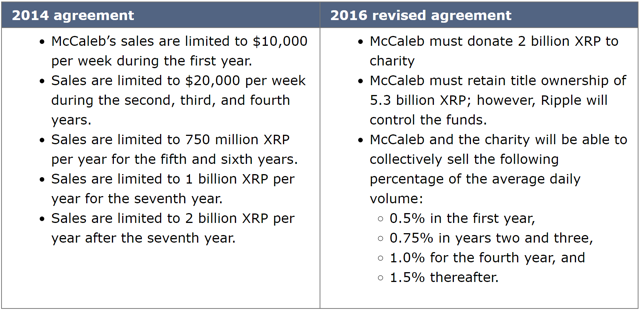 Image Source: Bitmex blog
The technical concern here is that many people get into cryptocurrencies thinking that they have some form of freedom and resistance from censorship. That is not the case with Ripple, which can apply pressure for any reason they find expedient and cause funds to be frozen for reasons that may or may not have anything to do with law enforcement.
Distributed consensus?
I've said in the past that I'm not a fan of the practices of the Bitmex exchange. I stand by that, but I have to also add that their blog is a different story. I have found quite a bit of interesting and well thought out work there, such as the following:
In January 2018, the BitMEX Research team installed and ran a copy of Rippled for the purpose of this report. The node operated by downloading a list of five public keys from the server v1.ripple.com, as the screenshot below shows. All five keys are assigned to Ripple.com. The software indicates that four of the five keys are required to support a proposal in order for it to be accepted. Since the keys were all downloaded from the Ripple.com server, Ripple is essentially in complete control of moving the ledger forward, so one could say that the system is centralised. Indeed, our node indicates that the keys expire on 1 February 2018 (just a few days after the screenshot), implying the software will need to visit Ripple.com's server again to download a new set of keys.
They go on to say: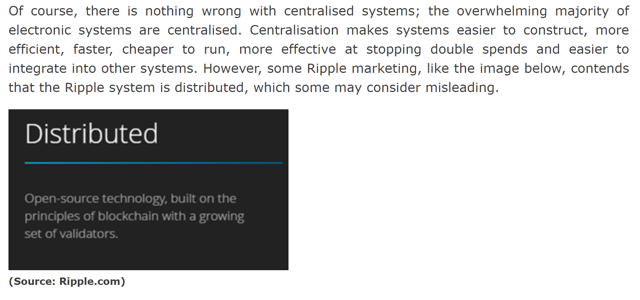 Image Source: Bitmex Blog
This is true. The overwhelming majority of computer systems today are centralized, even if they are geographically redundant. There's nothing wrong with this. The only problem is trying to sell yourself with the distributed card when you're really running a centralized system. I find this disingenuous at best.
Concerns about RippleNet
On their website, Ripple lists Xcurrent, Xrapid and Xvia as it's three primary solutions (products). You may be wondering, where is XRP in all this?
Xcurrent is meant to provide real-time payments between banks
Xrapid is an on-demand liquidity pool for payment providers, intended to free up trapped liquidity pools

Can use XRP, but it's not required

Xvia is used as a common interface for making global payments

Can use XRP, but not by default
As you can see, investors should be cautious about news regarding Ripple because not everything Ripple does necessitates the use of the XRP token.
A very different "cryptocurrency"
Some have questioned the idea that without decentralization, without mining, and because Ripple is a corporation, can we even call XRP a cryptocurrency? It seems to me that XRP is on the edge of this definition, being far removed from the Bitcoin/Ethereum cohort. However, that doesn't necessarily mean much from a traditional investing standpoint. After all, cryptocurrencies are new and changing rapidly. So, we shouldn't necessarily assume this is good or bad, it is what it is.
The Bull Case for Ripple the company
All that being said, we do have to admit that Ripple accomplished some amazing things. Consider the following:
They have been around for about 14 years in one form or another. This is ancient in the cryptocurrency space.
They have received funding from some very well-known firms, such as Google Ventures, Andreessen Horowitz and several others.
They have run trials with Western Union (WU) and MoneyGram (MGI), and have partnerships with over 120 banks.
Ripple is best understood as a financial services company that happens to have a token. These tokens may be used as inter-bank settlements, and the Ripple network may also be used to facilitate these transactions without XRP.
Use of the token XRP will drive demand, but if Ripple launches competing products or platforms it could also provide positive externalities for XRP in the form of more name recognition, growth of the company, or integration of XRP in some way.
TX throughput
One of the main reasons for having a centralized system is to maximize TX throughput. This is one of the chief selling points of XRP, which claims to be able to process over 1,500 TX/second. Recently, XRP and ETH have both been processing about 500k TX/day, which puts them each twice as high as the number of daily Bitcoin transactions.
Conclusion
The banking system may be running on legacy software, but that doesn't necessarily mean that a blockchain is the "solution." I have never worked as a banker, but from what I've learned and observed, the problems we have in the technical operations are mostly due to the fact that regulators move very slowly and technology is changing very quickly. This makes sense because regulators have a challenging job, trying to protect the people who use the system but not stifle it at the same time.
A new protocol, such as the one Ripple is putting forth has the potential to capitalize on these opportunities because there is a need for change in the space and if someone can build a system that can be trusted and that's fast then there's money on the table, no doubt.
However, this question is further complicated by the fact that the XRP token may or may not be a part of the solution. That's where a lot of the risk lies in my opinion.
Even though Ripple does run counter to many of the ideals that I resonate with in the Bitcoin community, I can't be blind to the fact that the powerful banks and financial institutions will not sit idly by. XRP has shown signs of life in a down market (especially the network usage stats) and I think this is a positive sign given the state of most other cryptocurrencies as I'm writing this in September of 2018.
Proceed with caution.
Interested in Ripple, other cryptos? This article was posted first in Crypto Blue Chips, along with other research you can't find anywhere else.
Disclosure: I/we have no positions in any stocks mentioned, and no plans to initiate any positions within the next 72 hours.
I wrote this article myself, and it expresses my own opinions. I am not receiving compensation for it (other than from Seeking Alpha). I have no business relationship with any company whose stock is mentioned in this article.
Additional disclosure: I don't own any XRP today, but I may purchase some before the end of the year.