Originally founded in 2012, Ripple developed its own digital currency called XRP, which is now one of the oldest cryptocurrencies within the crypto space. It has managed to become the world's third cryptocurrency after bitcoin and ethereum (as of October 2018), sometimes even replacing ethereum as the second most valuable coin. However, despite a staggering performance and widening adoption, it is still complicated for ordinary people to understand how the whole system works.
So, what is XRP exactly? Why the coin became so popular that even such giants as Santander and SWIFT got interested in the company? Why the ever-growing number of institutions choose to join the RippleNet with more and more businesses adopting technologies developed by Ripple?
Before we'll go further, and find the answers to all these questions, let's clarify the terms because they're often used wrongly. Generally, 'Ripple' refers to three things:
Ripple – the firm operating the Ripple platform
XRP – the virtual currency that is developed to facilitate payments on Ripple
RippleNet – a global settlement system that connects banks, exchanges and other financial firms via the distributed ledger
Now, when everything is more or less clear, let's turn to the exploration of the fascinating world of innovations and technological advancements driven by the company.
Contents
Ripple vs XRP
To eliminate ambiguity related to these two terms, the project's team has decided to clarify the distinction between them. As the founders say, XRP coin and Ripple are completely different notions.
Simply put, Ripple is a software firm, whilst XRP is an independent virtual currency based on the distributed ledger system dubbed 'XRP Ledger'. The digital currency, together with XRP Ledger, is used by xRapid, a Ripple's financial solution for transfers settlement.
XRP can be used by exchanges integrating it into their systems, while developers can use XRP Ledger to build their own projects. However, the asset can't be controlled by any business, including Ripple. Although the firm holds 60 billion tokens, it has no power to control the digital currency and its market value.
Who Invented Ripple?
Although the firm was officially established in 2012, its current protocol was preceded by Ripplepay, a payment network written by Ryan Fugger back in 2004 with an aim of letting people create their own money. The website debuted in 2005 as a platform for securing transactions between Ripple's users.
In 2012, investor Chris Larsen joined the project and together with Britto, McCaleb, and Schwartz, set up the OpenCoin corporation to further focus on the development of the Ripple's protocol using Fugger's RipplePay model.
Initially named OpenCoin, the startup later rebranded itself to Ripple Labs until changing its name to Ripple in 2015. With over 200 employees, Ripple runs offices in the US, UK, India, Singapore, Australia, and Luxembourg.
Key Persons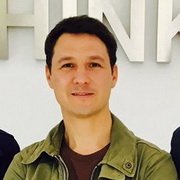 Jed McCaleb is a famous American entrepreneur and a billionaire, according to Forbes. He also co-founded several startups, among which are eDonkey, a crypto trading platform Mt. Gox (sold to Mark Karpelès in 2011) and Stellar. In 2013, he left Ripple, but his current XRP ownership is 5.3 billion coins.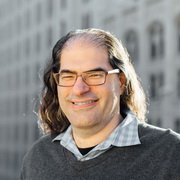 David Schwartz is the current CTO at Ripple and also its main architect. He worked with the National Security Agency and CNN to build a number of messaging and cloud storage solutions. Following his mission to dismantle and reassemble one of the biggest gateways on the planet, Mr. Schwartz committed to go as far as to disrupt ultimate middleman in banking – SWIFT.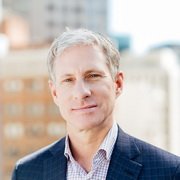 Chris Larsen is also an American businessman and serial investor, named by Forbes the richest man in the crypto space. He also participated in the launch of different financial technology startups, such as the mortgage lender called E-loan in 1996.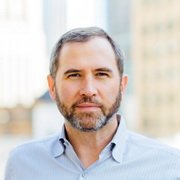 Bradley Garlinghouse has been the company's chief executive since 2015. Before Ripple, Bradley served as the CEO at the file-sharing platform called Hightail. Besides, he worked at tech giant Yahoo as a Senior Vice President and was AOL's President of Consumer Applications.
Owing to their efforts, now Ripple is a privately funded startup that has already completed five financing rounds. Among its investors are such big names as Andreessen Horowitz, Pantera Capital, Google Ventures, and Santander InnoVentures. The company obtained $55 million in a major round in 2016 from Accenture, Standard Chartered, CME Group, SBI Holdings, and Seagate Technology, etc.

Ripple Ecosystem

xCurrent is a solution allowing banks and other financial companies to instantly settle international payments. With a real-time messaging feature, the system facilitates checking and confirmation of payment contents prior to trading.

---

xRapid is Ripple's settlement system aimed at accelerating cross-border transfers. Unlike xCurrent, which allows transactions in fiat currencies, this platform uses only XRP coins, what makes it perfect for organizations that intend to improve the cost of liquidity.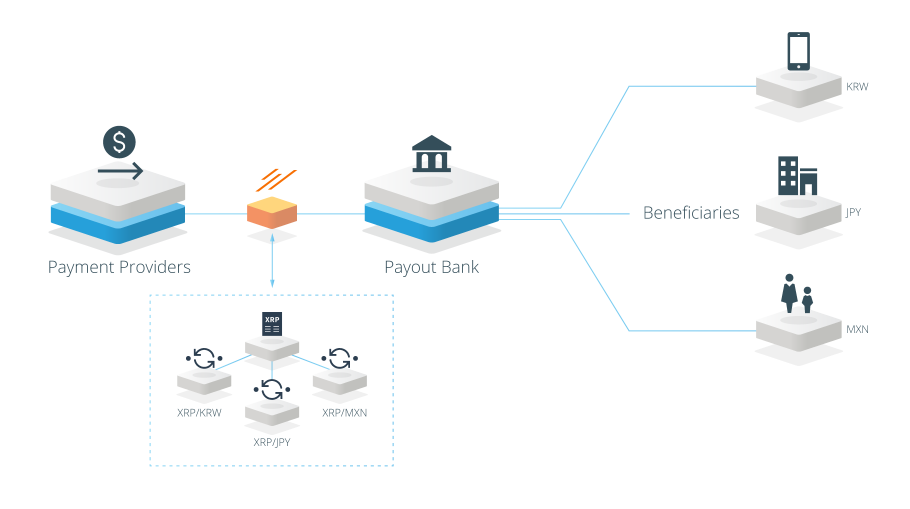 ---

xVia enables payment service providers to transfer money across different networks using standardized interfaces. It has a simple API that doesn't require users to install software, thus simplifying the transfer of funds. Moreover, xVia's users can add heavy data, like invoices, to the payment contents.

XRP Ledger
XRP is based on an open-source cryptographic ledger (the XRP Ledger) which is powered by a trusted network of P2P servers. The system is built to let users send money in either fiat or digital currency in just a couple of seconds from any country.
The platform utilizes the native virtual currency – XRP. Unlike Bitcoin or Ethereum, it mainly acts as a real-time source for liquidity data and serves as a bridge coin, allowing transfers between the two unrelated currencies.
The project is being tested by the leading financial players and is already supported by more than a hundred organizations worldwide, including Santander, Bank of America, American Express, and others.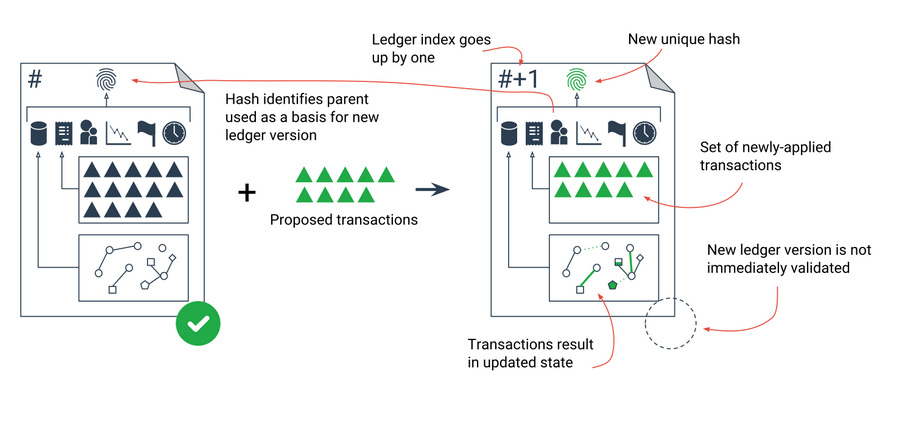 Besides supporting XRP transfers, the Ledger includes a set of characteristics that allow developing applications that can be run in any environment, but not only as smart contracts inside the Ripple network.
These features are:
Decentralized exchange – allows trading obligations as well as XRP currency;
Payment Channels – enables asynchronous XRP payments;
Invariant Checking – offers an independent layer of protection against bugs;
Escrow – enables users to lock up XRP coins until the expiration time;
DepositAuth – allows users to control who can transfer them money;
Amendments – lets users introduce changes to the Ledger without causing disruptions.
XRP Structure
Ripple has a finite supply of coins limited to 100 billion XRPs (all the tokens are initially mined and already exist). The coins can be destroyed after each transfer to pay transaction costs.
Interesting fact: given today's rate of destruction, it would take about 70,000 years to destroy all the coins.
The coins were released on the market when Ripple (XRP) was developed and no more can be issued, under the company's rules. Meanwhile, given that current circulating supply makes app 40 billion, the largest portion of the released XRP are still not in circulation. The company holds nearly 60 billion coins, 55 billion of which are kept in escrow accounts for further distribution. Each month, one billion XRP is made available for sale, what could raise the overall supply significantly in the upcoming years.
Instead of using Proof of Work (PoW) and Proof of Stake (PoS) algorithms, like bitcoin and other currencies do, XRP employs the consensus method known as Proof of Burn (PoB).
Each time someone transfers XRP to another account, a transaction fee is paid, while XRPs used for paying these fees are burned. After these coins are destroyed, they are removed permanently and can no longer be used. Default transaction fee is lower than bitcoin's one and totals 0.00001 XRPs.
With Proof of Burn, the cost of XRP will steadily increase, as more coins are burnt every day. The main function of burning XRP is to protect the network from being attacked or spammed.
What is the Ripple Protocol Consensus Algorithm?
Another thing that makes the system different from other cryptocurrencies, is that it doesn't use a real blockchain. In contrast, XRP Ledger employs its own technology, named Ripple protocol consensus algorithm.
The goal of the mechanism is to enable and settle transfers in a distributed database. The ledger has a network of trusted validators that decide whether transactions comply with the protocol requirements. Once a transaction is verified by the majority of validators, it is written on the ledger. While it takes hours for a transfer to be approved on the bitcoin network, a transaction on the Ripple network is confirmed within just 4-5 seconds.
Unlike miners, validators are not paid for ordering and validating transactions. They are run by individuals, digital asset trading platforms and other institutions, and are located all over the globe. The key aim of this process is to prevent double spending. So, if the same number of digital currency is spent on two separate transactions, they would not be approved by the majority of nodes.
Sometimes, a validator can go against the consensus. In such a case, the validator who disagrees on a transaction has to digitally sign it and inform other validators, who will, in turn, decide whether it needs to be removed or not. This mechanism helps to maintain the safety of the system and eliminates delays caused by validators.
Apparently, the algorithm can be better explained by David Schwartz:
XRP for Developers
The XRP Ledger is open-source and its API can be used by developers for a variety of purposes. Ripple provides a wide set of instruments necessary for running the technology independently and incorporating the system into third-party platforms.
As for technology's use cases, Ripple says it is mainly integrated by exchanges to allow deposits in XRPs. Developers and companies based on the Ledger can install a rippled Validator and thus support the network's decentralization. Also, users are encouraged to enhance the functionality of rippled Validator, a P2P server that operates the XRP Ledger, by contributing code or reporting a bug detected on the platform.
To fuel the use of its currency, the firm has launched an initiative named Xpring – the project which aims to attract and urge businesses to implement on the Ripple's Ledger by providing them with investment support.
What are XRP Benefits?
These are the key features which allow XRP to be rightfully ranked among top ones.

Access
Transaction speed
Increased payment certainty
Low payment costs
Existing payment systems are often outdated, what makes it difficult and costly for users to transact with new partners. RippleNet, in turn, offers a single point of access into a global network of institutions via standard rules, formats, and governance.
While Bitcoin can settle just seven transactions a second, XRP can consistently handle 1,500 transactions per second, aiming to scale to the point where it would be able to compete with Visa.
Using a messenger API, the network ensures payment certainty allowing institutions exchange data like KYC requirements, FX rates, the delivery time of funds, and other payment details. In addition to the standardized connectivity, data APIs, the platform provides on-demand access to liquidity, thus reducing payment costs.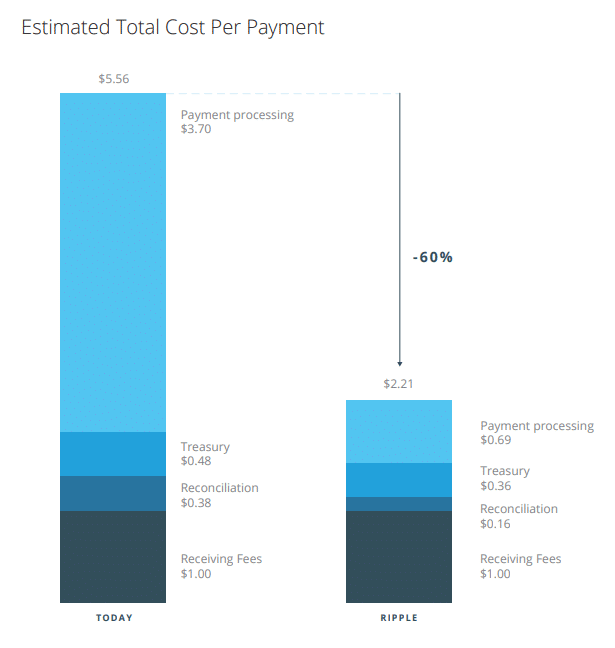 Unlike most startups in the blockchain sphere, Ripple was established as an official company targeted at banks. So, it is not a subject to multiple checks by regulatory bodies like other digital currencies. Since the platform is not targeted at end users but aims to drive the network's adoption among large banking institutions, high scalability and ability to process high volumes of transactions are its core features.
As we mentioned above, Ripple uses a unique Proof of Burn (PoB) mechanism, in which XRPs used for transaction commission are destroyed and thus coins' total amount reduces every day. This implies that the current cost of the XRPs will keep growing within time. The minimum value of a standard transaction is 0.00001 XRP, or 10 drops. The commission can escalate when the load is getting higher.
How to Buy XRP?
The cryptocurrency can be acquired on many of the world's popular crypto exchanges. Some platforms, like Bitstamp, allow buyers to exchange USD or EUR for XRP, while most of them require users to exchange it from a different virtual currency. One of such, one of the world's leading cryptocurrency exchanges – Chinese exchange Binance. Being one of the largest in the field, Binance boasts its own cryptocurrency named Binance Coin (BNB), which can be used for paying trading fees.
To make an investment, you'll have to register a new account on the platform you've selected, add XRP wallet where you'll transfer your coins, make a deposit using fiat or electronic currency, and finally choose the amount of XRP coins you wish to get.
Where to Keep XRP?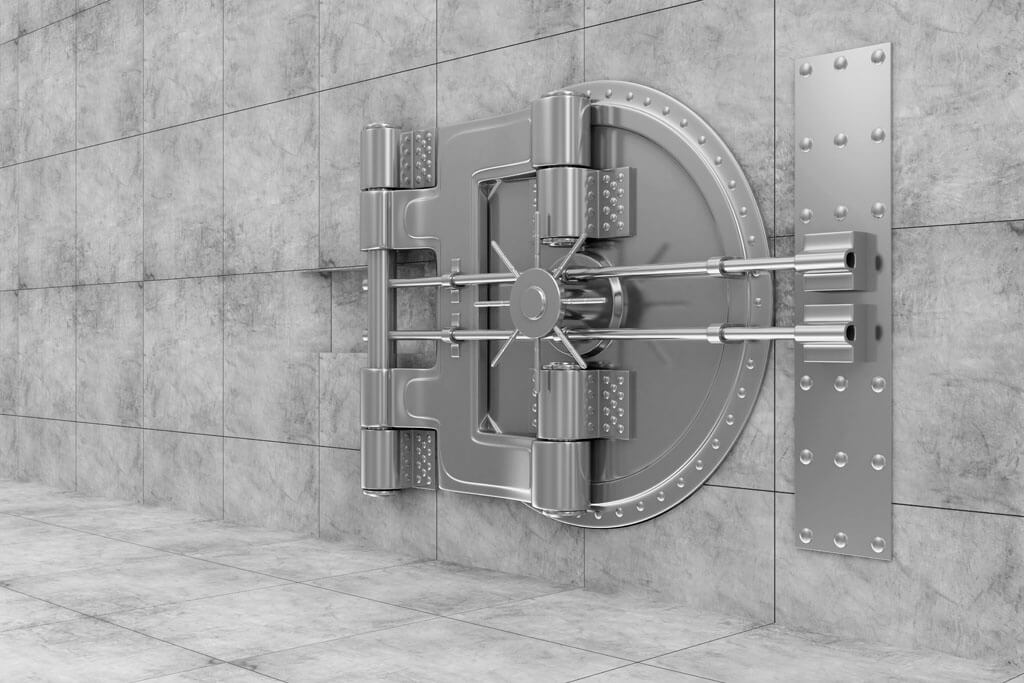 There are three basic ways to keep your XRPs:
Exchange. Probably the simplest way is to leave XRP on the platform (exchange) where you bought it. The option, however, is not perfect given that any exchange is prone to the risk of a hacker attack.
Software wallet (web app). You can also register an XRP wallet and keep your money in it. Good examples of such are Exarpy and Toast Wallet. The first is non-hosted and accessible from any web browser, while the second is additionally open-source and free (something everyone is loving).
Hardware wallet. Meanwhile, the most secure option today is to hold the cryptocurrency on a hardware wallet that supports different types of coins. Today, Trezor and Ledger Nano S are the most popular due to their security, ease of use and portability. The only thing you should care about when using this device is not to lose it.
Is XRP a Good Investment?
Nobody can be 100% sure that XRP, just like any other currency, is a safe investment tool. However, it has some benefits that make it a promising asset. The overall supply (100 billion tokens) has already been released, that means that there is no place for inflation.
While about 40% are in circulation, the remaining coins are kept by Ripple. To prevent a negative influence on the value, the platform will not issue the whole coin supply but will release them gradually each month.
The digital currency has grown a lot since the start of 2018 and is likely to surge given the number of partnerships the company has entered into. In 2017, the coin was valued at about $0.0066 and reached a record price level of $3.81 in January 2018.
Ripple Leads Lobby Group
While the US is one of the major financial markets, the government is still too slow to develop a framework for regulating the cryptocurrency sector. Aiming to promote the favorable legal environment for crypto developers, Ripple Labs, together with custody services provider PolySign, financial system Coil, and virtual asset investment agency Hard Yaka, established a lobby, entitled "Securing America's Internet of Value Coalition".
Led by Ripple, the new coalition aims to get support from authorities on making the US an attractive country for crypto investors. The members have also partnered with bipartisan lobbying company Klein/Johnson, which will receive 25,000 USD with an additional 10,000 XRP on a monthly basis.
The alliance's efforts to be directed towards Congress and other organizations related to cryptocurrency regulation, like the IRS and SEC.
XPring
Xpring is an initiative aimed at supporting businesses to create their new projects leveraging the XRP Ledger and XRP cryptocurrency. Ripple will provide grants, investments, and incubation to developers using Ripple's technology to overcome users' issues across digital media, identity, finance, and other areas.
To ensure the best support for entrepreneurs, Xpring welcomed Ethan Beard who will become a Senior Vice President to run the program. Prior to becoming an advisor at different fintech firms, Ethan worked as an executive at Facebook, where he managed developer relations, and oversaw product marketing.
Xpring has already provided support to several projects, including Coil, SB Projects, Blockchain Capital, and Omni.
Ripple for Good
Ripple for Good is a philanthropic project launched by Ripple in September 2018. The goal of the charity project is to drive financial inclusion over the globe by supporting initiatives in fintech and educational spheres.
As Ripple explains, the charity aims to facilitate social change by allowing unbanked populations to access innovative financial services. The company will support real-world applications of the cryptocurrency, blockchain and other related technologies across a range of sectors, including science, mathematics, engineering, and technology.
Ripple is investing a total of $105 million to finance the program. Apart from $80 million in already received donations, the company is providing $25 million of its own money. So far, it has dedicated $50 million to help universities participating in blockchain investigation and $29 million to the teacher crowdfunding website DonorsChoose.
As part of the project, Ripple has collaborated with a non-profit foundation RippleWorks, which has supported 70 initiatives from 55 different countries and helped 250 million people globally improve their lives.
Most Popular from Google Search
Let's turn to answer the most relevant (as per Google search queries ) questions concerning Ripple and XRP.
 How many ripple in circulation?
The total amount of XRPs in use is 39,9 billion.
On XRP's official portal, the company provides all the relevant information on the currency. There you can check out coin's price and volume, find latest news and learn more about XRP.
As per to the ISO rules, every currency that is not issued by a specific country must begin with the code "X". For instance, the abbreviation for gold is XAU, while Bitcoin is known as XBT. So, XRP stands for the Ripple coin.
Ripple coin is called XRP and serves as a native virtual coin on Ripple's network.
The term Ripple can refer to three different things: Ripple Labs (the firm that manages the Ripple platform), the Ripple Payments Protocol, and the network's native cryptocurrency, dubbed XRP.
Yes, in 2015 Ripple officially made its code open source.
Each digital wallet on the Ripple platform is identified by a unique public key, which is the XRP address that other people can send their funds to.
As the company says, Ripple is decentralized because users can choose validators they trust. However, many argue Ripple is not fully decentralized, as it holds a large portion of control over the system. The platform owns the majority of XRPs, thus has all the rights to manage coins supply. Besides, it uses a trusted pool of validators, with each validator being selected by Ripple itself.
XRP token is the name of the Ripple's native currency facilitating global transactions via its payment network.
Ripple's own currency is named XRP and is used for the real-time settlement of payments.
How long do Ripple transactions take?
Transactions generally take no more than 4 seconds.